American Heart Association Heartsaver Pediatric First Aid, CPR & AED
Saturday, September 15, 2018
8:30 AM - 1:30 PM
Location: 4-C McHenry Office, 667 Ridgeview Drive, McHenry, IL 60050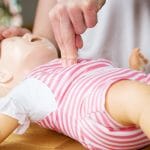 CPR/First Aid trainings are open to providers 18 years and older working in child care settings in Carroll, DeKalb, Lee, McHenry, Ogle and Whiteside counties.
5 Training Hours
Audience: All Providers; Including providers participating in the Child Care Assistance Program
Level of Learning: Introductory
Instructor: Debra Peterson, RN, CCNC, CPR/First Aid Instructor
Until September 30, 2018, priority registration is given to CCAP providers. CPR/First Aid reimbursement is open for providers caring for families on the 4-C CCAP caseload or working in a child care center serving CCAP families in Carroll, DeKalb, Lee, McHenry, Ogle, or Whiteside counties. 
Training fee is waived for providers caring for children on the Child Care Assistance Program (CCAP) who are required to complete the CCAP training requirements. See guidelines on the training calendar page of our website.
Providers not being paid by CCAP are required to pay the $20 fee and have a current 4-C membership.