American Heart Association Heartsaver Pediatric First Aid, CPR & AED
Saturday, November 10, 2018
8:00 AM - 2:00 PM
Location: 4-C DeKalb Office 155 N 3rd St, Suite 300 DeKalb, IL 60115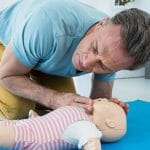 CPR/First Aid trainings are open to providers 18 years and older working in child care settings in Carroll, DeKalb, Lee, McHenry, Ogle and Whiteside counties.
6 Training Hours
Audience: All Providers; Including providers participating in the Child Care Assistance Program
Level of Learning: Introductory
Instructor: Steve Kimmel, Director, Kishwaukee College Early Childhood Center
Training fee is waived for providers caring for children on the Child Care Assistance Program (CCAP) who are required to complete the CCAP training requirements. See guidelines on the training calendar page of our website.
Providers not being paid by CCAP are required to pay the $20 fee and have a current 4-C membership.