An Introduction to the Environment Rating Scales (includes the new ECERS-3)
Saturday, November 3, 2018
8:30 AM - 12:30 PM
Location: Shah Center, 4100 W Shamrock Ln, McHenry, IL 60050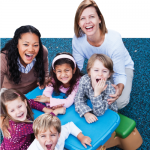 This training is for center-based programs and family child care providers and offers an overview of the Environment Rating Scales.  The Environment Rating Scales are user-friendly assessment tools that measure the quality of the learning environment for infants through school-age children.  After completing this training, participants will be able to use the tool(s) for program self-assessment and improvement planning.
4 Training Hours
Audience: All Providers
Level of Learning: Intermediate
Presenter: Barb Christmas, 4-C Quality Specialist
Fee: $10 non-refundable and non-transferable fee required to register.