**CANCELLED** An Introduction to Transitions
Saturday, September 28, 2019
9:30 AM - 12:30 PM
Location: 4-C Office, DeKalb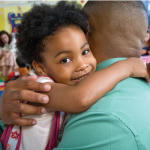 Participants will recognize the effects of various types of transitions – including activity, classroom, program, family and community – on families and a child's learning and development. Participants will be provided with strategies to assist families in times of transition, as well as identify specific types of transitions that impact children and families.
3 Training Hours; Level of Learning: Introductory
Presenter: Cheryl Joseph, ITN Curricula Trainer
Fee: Fee: $10 non-refundable and non-transferable fee required to register.