Caring for Mixed Ages of Children
Saturday, October 27, 2018
8:00 AM - 11:30 AM
Location: 4-C DeKalb Office 155 N 3rd St, Suite 300 DeKalb, IL 60115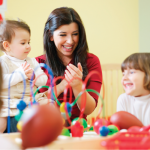 In this training, participants will define developmentally appropriate practice (DAP) as well as recognize the importance of DAP when caring for mixed ages of children.  Components of a safe and healthy family child care environment serving mixed ages of children will be discussed as well as identifying areas for program improvement.
3.5 Training Hours
Audience: Family Child Care Providers
Level of Learning: Introductory
Presenter: Rachel Feigel, ITN Curricula Trainer
Fee: $10 non-refundable and non-transferable fee required to register.