Early Childhood Development Screening
Saturday, October 27, 2018
8:00 AM - 4:00 PM
Location: CGH Hospital 100 E Le Fevre Rd Sterling, IL 61081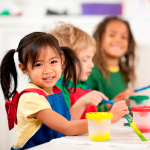 This training reviews child growth and development in early childhood environments. A review of several commercial screening tools is discussed to allow child care practitioners more options on monitoring a child's typical development. Case studies provide hands-on learning for the participant on use of a developmental screening tool and guidelines for referral to an early intervention program.
7.5 Training Hours
Audience: All Providers
Level of Learning: Intermediate
Presenter: Stephanie Witt, ITN Curricula Trainer
Fee: $15 non-refundable and non-transferable fee required to register.
Please note: There will be a 30 minute break. Please bring a sack lunch or plan to purchase lunch at a nearby restaurant.