ECE Credential Level 1 – Module 1: Child Development Overview
Saturday, November 10, 2018
8:00 AM - 11:00 AM
Location: 4-C DeKalb Office 155 N 3rd St, Suite 300 DeKalb, IL 60115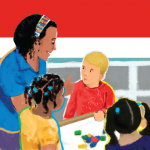 Participants receive an overview in child development for children birth through early school-age.  Emphasis will be on understanding basic milestones in development as well as on strategies used to promote the healthy development of children.
3 Training Hours
Audience: All Providers; including providers participating in the Child Care Assistance Program
Level of Learning: Introductory
Presenter: Andrea Angileri, Ed.S., ITN Curricula Trainer
4-C DeKalb Office 155 N 3rd St, Suite 300 DeKalb, IL 60115
Free training
Please note: If you are attending modules 1 and 2a there will be a 30 minute lunch break.  Please bring a sack lunch or plan to purchase lunch at a nearby restaurant.