ECE Credential Level 1, Tier 3, Module 8b: Preschool Physical Development
Saturday, March 17, 2018
8:00 AM - 11:00 AM
Location: Sterling/Rock Falls Day Care 1840 W LeFevre Rd Sterling, IL 61081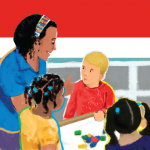 As toddlers mature, their minds are not the only things growing at an incredible rate. You will understand the special areas of physical development in preschool-aged children. You also will learn about fine motor activities that will help preschoolers grow into their bodies while developing proper coordination and movement.
3 Training Hours
Audience: All Providers; Including providers participating in the Child Care Assistance Program
Level of Learning: Introductory
Presenter: Andrea Angileri, Ed.S., ITN Curricula Trainer
Free training
Please note: If you are attending modules 8b and 8c on this Saturday there will be a 30 minute lunch break.  Please bring a sack lunch or plan to purchase lunch at a nearby restaurant.