Family and Community – Partners in Learning
Thursday, January 24, 2019
6:15 PM - 9:15 PM
Location: McHenry County Mental Health Board, 620 Dakota St, Crystal Lake, IL 60012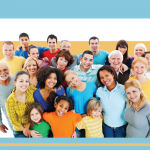 The benefits of strong family and community engagement practices in the child care setting will be the basis of discussion.  Participants will identify the strengths of current family and parent policies, as well as discuss strategies to develop a strengths-based family and community engagement plan.
3 Training Hours
Audience: All Providers
Level of Learning: Introductory
Presenter: Cheryl Joseph, ITN Curricula Trainer
Fee: $10 non-refundable and non-transferable fee required to register.