How Full is Your Bucket in the Workplace?
Thursday, April 19, 2018
6:30 PM - 8:30 PM
Location: 4-C DeKalb Office 155 N 3rd St, Suite 300 DeKalb, IL 60115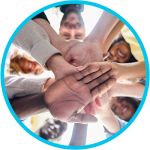 No matter how long or short, every interaction you have throughout the day makes a difference.  That is why it's so important to feel supported in your work with children.  This training will help you discover the key to great bucket filling for yourself and those around you and how to prevent bucket dipping.  We will review the 5 strategies of bucket filling and how you can implement them into your everyday interactions with your co-workers or fellow providers.  When it comes to bucket filling, one size does not fit all, so come find out what works for you!
2 Training Hours
Audience: All Providers
Level of Learning: Introductory
Presenter: Maggie Mosca, MSW, 4-C Early Childhood Mental Health Consultant
Fee:
Non 4-C Members: $10
4-C Members: free