Holiday Celebrations: Let's Make Them Meaningful for Children and Families! (Webinar)
Tuesday, February 27, 2018
7:00 PM - 8:30 PM
Location: Live webinar online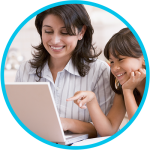 *Log-in at 6:45 PM.
Holiday celebrations can be an important part of a classroom community and provide opportunities for children and families to learn about traditions and values that are a cherished part of people's lives. But questions often arise in programs following an anti-bias philosophy: can we celebrate holidays? Do we have to celebrate all holidays? How can we include holidays without offending anyone? Join in this thought provoking training as we use anti-bias goals to reflect on current holiday practices and think about how to make holiday celebrations meaningful for the children and families in early childhood programs.
1.5 Training Hours
Audience: All Providers
Level of Learning: Introductory
Presenter: Emily Reilly, M.S., Early Childhood Resource Specialist, STARNET Regions I and III
Free training
Register online at: http://starnet.org/home/training/online-webinars/.
Registration taken through STARnet only.
Training made available by a collaboration with STARnet.