Introduction to Developmental Screening Tools
Thursday, November 29, 2018
6:15 PM - 9:15 PM
Location: NISRA, 285 Memorial Drive, Crystal Lake, IL 60014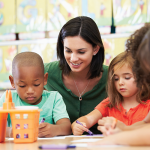 The process of developmental screening in the early childhood setting is introduced to practitioners.  A review of several commercial screening tools is discussed to provide child care practitioners' options in monitoring a child's typical development.
3 Training Hours
Audience: All Providers
Level of Learning: Introductory
Presenter:
Maggie Mosca, MSW, 4-C Early Childhood Mental Health Consultant
Fee: $10 non-refundable and non-transferable fee required to register.