Lighten Your Load with Laughter
Thursday, March 11, 2021
6:30 PM - 7:30 PM
Location: Online Webinar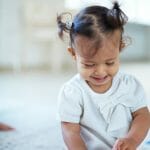 Enjoy the lighter side of life and take time to laugh! Learn about the physical and psychological benefits of laughter and ways to build emotional habits that keep you smiling. The training will include Laughter Yoga exercises, which can be in casual or professional clothing. No yoga poses or exercises included. Join us in light-hearted fun while learning ways to build positive emotional habits and cultivate joy in daily life.
This training has a maximum number of 15 participants as it is VERY interactive. Both audio and video will need to be left on for the entire training so that you can fully participate! The yoga reference in Laughter Yoga focuses on breathing and calming techniques, not getting in downward dog! The trainer has a certification in Laughter Yoga and is very invested in sharing its physical and emotional benefits. 
The tools gained in this training would be easily transferred to co-workers or even the children in your programs!
Trainer: Emily Hummel, LNFT, Therapist at NM Kishwaukee Outpatient Behavioral Services
Audience: All Providers
1 Training Hour; Level of Learning: Introductory
Fee:
4-C Members: Free
Non 4-C Members: $10