The Creative Curriculum for Infants, Toddlers & Twos: 3rd Edition – Implementing the Foundations Volumes
Every other Saturday
Saturday, July 21, 2018 - Saturday, August 4, 2018
9:00 AM - 3:30 PM
Location: 4-C DeKalb Office 155 N 3rd St, Suite 300 DeKalb, IL 60115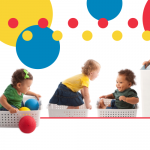 *RESCHEDULED* Participants must attend both 7/21/18 and 8/4/18 to receive credit. Registration Deadline: 7/6/18
This hands-on session guides teachers and caregivers through every component of the expanded Creative Curriculum® for Infants, Toddlers & Twos, a research-based, comprehensive curriculum that focuses on building warm, nurturing relationships with the youngest learners and intentionally promoting their development and learning in all areas. Participants first explore the three curriculum volumes to plan and implement meaningful routines and intentional experiences for all the children in a language-rich environment. To strengthen assessment skills, teachers will use Volume 3: Objectives for Development & Learning, Birth Through Third Grade to practice documenting their observations of young children and to plan for and scaffold their learning.
12 Training Hours
Audience: Center staff only who care for infants, toddlers, or twos. Priority given to programs seeking ExceleRate Silver or Gold Circle of Quality, or who are already using Creative Curriculum in their program.
Level of Learning: Intermediate
Presenter: Cheryl Bulat, ITN Curricula Trainer
Fee: $20 non-refundable and non-transferable fee required to register.
There will be a 30 minute break. Please bring a sack lunch or plan to purchase lunch at a nearby restaurant. Attendance at both sessions required. No partial credit given.