Trauma in Early Childhood: How Does It Affect Children In Your Care?
Tuesday, April 13, 2021
6:00 PM - 8:00 PM
Location: Online Webinar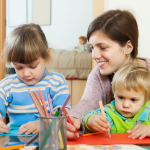 Participants will learn about how trauma affects the developing brain. The effect on the brain often reveals how and why a child may react, or interact, in a particular way after experiencing trauma. Caregivers will be involved in a discussion about their knowledge of trauma and how to best support children in their program who may have endured a traumatic experience.
Trainer: Andrea Cossey, MSW, 4-C Early Childhood Mental Health Consultant
Audience: All Providers
2 Training Hours; Level of Learning: Introductory
Fee:
Non 4-C Member: $10
4-C Member: Free