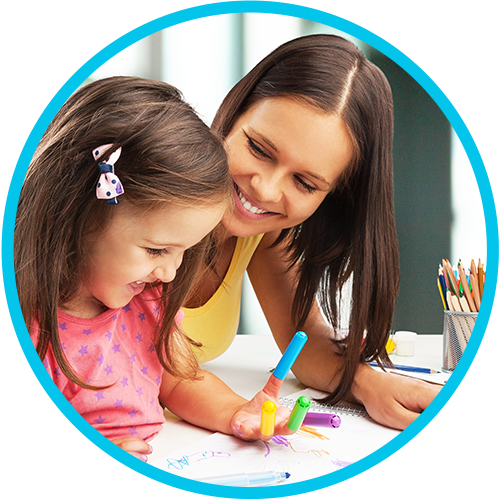 Early Childhood Workforce Support Program
Children's resiliency, especially during early years, is strongly influenced by the capacity of the adults in their lives to buffer exposure to stress and provide responsive, sensitive care. As more mothers enter the workforce and utilize childcare, childcare workers become the primary caregivers and influencers of those children. The expectation to deliver quality interactions with multiple children, some of whom present with substantial social-emotional needs, creates a tremendous professional responsibility and increased stress. When chronic stress compromises the childcare workers' well-being, they may lose confidence in their ability to support the needs of children. This can contribute to feelings of defeat and professional failure.
The emotional well-being of childcare workers is interconnected with the social-emotional health of the children in their care. Childcare workers who suffer with unaddressed symptoms of personal and professional stress often report feeling overwhelmed and less capable of supporting the children in their care. 4-C recognizes that taking care of children includes taking care of their caregivers and so developed the Early Childhood Workforce Support Program.
Childcare workers expend enormous amounts of physical and emotional energy during their workday. It is common for workers to experience chronic stress and burnout as they are confronted by daily challenges of their professional and personal lives. The Early Childhood Workforce Support Program validates and responds to the stress experienced by childcare workers. The program provides a non-judgmental space for early childhood workers to engage in reflective consultation to promote self-awareness of the internal and external influences that affect their work.
Program consultants will meet the criteria of an Infant and Early Childhood Consultant and are part of the Illinois Gateway network. Program consultants are reflective, regulated, and growth-focused in their approach. Consultation is offered in regularly scheduled meetings based on need. The consultative process is a collaborative effort between consultant and worker to use reflective conversation to build reflective capacity and broaden perspective. This worker-focused approach offers early childhood workers the opportunity to discuss personal and professional stressors and to incorporate the knowledge gained in individual reflection into their interactions with their co-workers and with the
children and families in their programs. This consultative approach promotes self-awareness and encourages perspective-taking when confronting communication and child behavior challenges. It validates the difficulty of early childcare work, explores practical methods of stress management, and reacquaints the worker with their strengths and abilities in supporting children and families.
The Early Childhood Workforce Support Program is part of the 4-C Health and Wellness Department and partners with the 4-C Mental Health Consultants and Nurse to provide comprehensive services to providers and staff. This collaboration creates easy access to the 4-C consultants who are best able to meet the specific needs of early childhood workers.
If you live or work in the DeKalb County area and are interested in learning more about this program, please reach out to Maureen McMurrough, the Early Childhood Workforce Support Consultant.
This service is also offered to providers outside DeKalb County but within our service area based on availability.
Maureen McMurrough  MSW  CADC
Early Childhood Workforce Support Consultant
(815) 758-8149 ext. 289