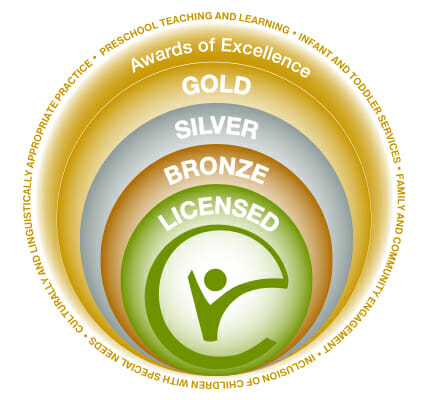 ExceleRate® Illinois – Preparing Children for Success
For many families, one of their first important decisions is choosing the best child care setting for their child. Now there's help with ExceleRate® Illinois.
ExceleRate® Illinois is a quality recognition and improvement system that helps child care programs to improve the quality of care. Families can find programs that focus on quality by looking for the Circles of Quality.
Licensed Circle of Quality
Bronze Circle of Quality
Silver Circle of Quality
Gold Circle of Quality
Why Quality Matters
Research in science and brain development shows that it's how you engage with a child in the first five years that shapes their ability to be successful in life.
When quality is the focus in the first five years, children are more prepared for school and life.
Prepared for School
Achieves basic developmental milestones
Acts curious and ready to learn
Interacts well with other children and adults
Prepared for Life
High college attendance and graduation rates
Greater job stability and earning potential
Lower rates of poverty
For more information about ExceleRate® Illinois visit http://www.excelerateillinois.com/
Look for a child care provider with an ExceleRate® Illinois Circle of Quality