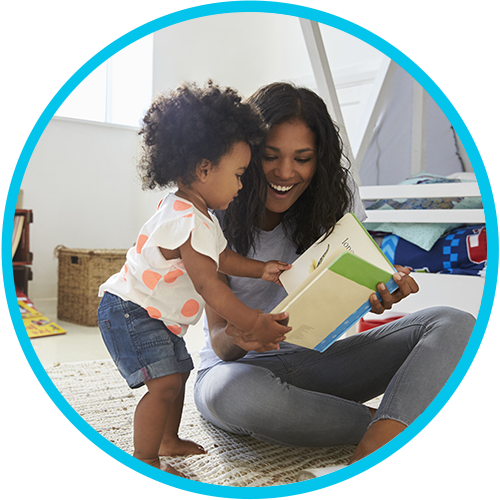 Good books for young children:
You Must Never Touch a Dinosaur by Make Believe Ideas Ltd: A tactile touch-and-feel book all about dinosaurs. Parents and children alike will enjoy reading the funny rhyme warning them of the dangers of touching a dinosaur…only to ignore the advice! Explore different silicone textures on each page and promote your child's early love of reading.
Baby Sees Farm by Kenny E. Rettore: Your baby will like what they see in this cloth, mirror book featuring farm animals in high contrast colors and an irresistible crinkling sound when squeezed.
The Very Hungry Caterpillar/La Oruga Muy Hambrienta by Eric Carle:  Features a hungry caterpillar that eats his way through a variety of different foods before undergoing metamorphosis and transforming into a beautiful butterfly. Perfect for teaching colors!
Goodnight Moon/Buenas Noches, Luna by Margaret Wise Brown: A perfect book to read at the end of the day. Help your little one say goodnight to every object within sight. Finding all of the items mentioned throughout the book within the pictures is a good bedtime activity.
Twinkle, Twinkle Little Star/Estrellita, Donde estás? by Anna W. Bardaus: End your day with this classic nursery rhyme. Action rhymes are great for baby's brain and body. Have fun acting out this rhyme together using the actions below:
Twinkle, Twinkle, little star,  (open and close your hands at shoulder level)
how I wonder what you are! (lift your palms up and shrug)
Up above the world so high, (point at the sky as you wave one hand)
like a diamond in the sky. (raise your hands above your head and wiggle your fingers)
Twinkle, Twinkle, little star (open and close your hands at shoulder level)
how I wonder what you are! (clasp your hands at chest level)
En Espanol:
Estrellita, Dónde estás? (abran y cierren las manos al nivel de los hombros)
Me pregunto qué serás (levanten las palmas y alcen los hombros)
En el cielo y sobre el mar, (apunten al cielo mientras saludan con una mano)
un diamante de verdad. (levanten las manos sobre la cabeza y muevan los dedos
Estrellita, dónde estás? (abran y cierren las manos al nivel de los hombros)
Me pregunto qué serás! (junten las manos al nivel del pecho)