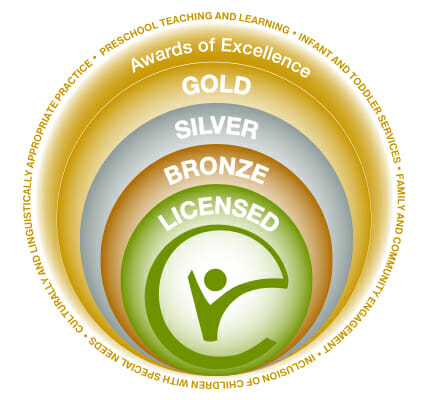 Make Quality a Priority
As an early learning and development program, you appreciate the importance of making quality a priority. Research confirms that the way we engage with children from birth through kindergarten significantly impacts school readiness and success throughout their lives. ExceleRate® Illinois gives you a framework to make continuous quality improvements in your program.
ExceleRate® Illinois helps programs prepare children for success in school and in life by:
Clearly defining standards and processes for quality improvement
Focusing on continuous quality improvement
Helping providers access training, consultation and other resources
Recognizing and rewarding quality improvement achievements
ExceleRate® Illinois uses a consistent set of standards organized into four areas to measure quality:
Teaching and Learning
Family and Community Engagement
Leadership and Management
Qualifications and Continuing Education
Circles of Quality
The Licensed Circle of Quality reflects compliance with licensing standards
The Bronze Circle of Quality reflects your efforts around training and education
The Silver Circle of Quality signals that you have completed a rigorous self- assessment process and made improvements indicated
The Gold Circle of Quality indicates you have met even higher levels of quality on the standards as verified by an independent assessor
Let us help you get started in ExceleRate® Illinois
Our Quality Specialists provide:
Information about ExceleRate® Illinois processes and standards
Assistance with deciding which Circle of Quality is the best option for your program
Guidance developing Continuous Quality Improvement Plans to help you meet the ExceleRate® Illinois Standards
Support in your leadership role as you navigate the change process and implement continuous quality improvement practices
Information about resources and financial supports available through 4-C and statewide
Facilitation of Quality Improvement Funds ExceleRate® Illinois Cohorts to help programs meet their continuous quality improvement goals
Resources for Programs Pursuing ExceleRate® Illinois
Learn more at www.ExceleRateIllinoisProviders.com
Contact us: 815-758-8149 x296 or Email
When visiting child care programs the Quality Specialist do not monitor or investigate programs. Any visits to child care programs are to provide consultation, technical assistance, resources and support.

Funded by the Illinois Department of Human Services