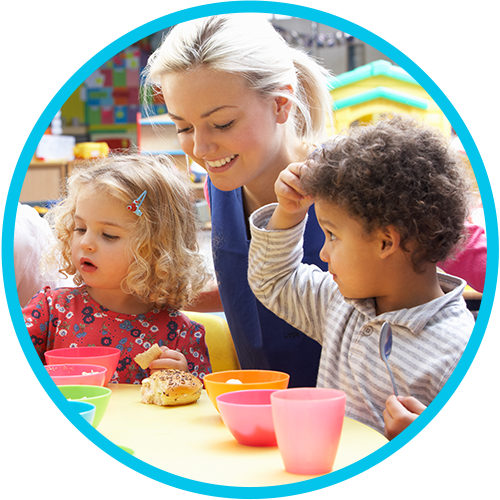 Contact 4-C for Referrals
Families can contact us for help finding a child care program or they can search online using the ExceleRate® Illinois Child Care Search .
For customized child care referrals, please call our Referral Team at 815-758-8149 x241, email our Referral Team at 4CReferrals@four-c.org, or complete this on-line Child Care Referral Intake Form.
Based on their needs and preferences, families are referred to child care centers, family child care homes, preschools or school age programs.
Information about quality child care, types of care and child care financial assistance is provided on the call.
Referrals can be mailed, emailed or faxed. All families receive materials to assist with their child care search.
Search for Child Care Online
The ExceleRate® Illinois Child Care Search offers families an easy way to find child care providers in your area.  However, families need to have confidence in their child care arrangements.  Finding quality, convenient and affordable child care is not an easy job.  The options and tips below will help you get started.  Take a moment to read these before you start your search.
What child care options are available?
What to look for in your search for quality child care.
If you have any questions about the ExceleRate® Illinois Online Child Care Search call 815-758-8149 x241 or 815-344-5510
4-C does not endorse or recommend one provider over another. Referral Specialists provide unbiased referrals and information about child care programs. Referrals from the 4-C referral line or online search are not a guarantee of quality.  For more information on licensing compliance of licensed child care providers, visit the Sunshine Website. Information provided to 4-C during the referral process is confidential and used only for the purpose of referring families to child care programs.